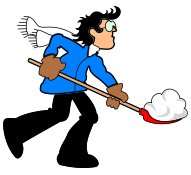 As we approach the winter season, our road crew has begun preparations for the possible impending snow and ice that winter brings.  Please remember our policies remain the same: Plowing – priority one roads first and all other roads as time and conditions permit.  However, if an emergency situation occurs, the Lebanon Co. dispatch can alert the road crews, and we will do everything in our power to assist the fire company or ambulance in getting to your area as quickly as possible. If you live in the village of Newmanstown or Newburg Village Development and have available off-street parking, the road department would suggest that during a snowstorm you park your vehicles and any recreational vehicles off-street, allowing them to plow closer to the curbs.  This will allow safer and more convenient parking along the streets after the snow has ended.
Priority 1 Roads: A) State Rd. 2021 from intersection with State Rd. 2015 & PA Route 897; B) State Rd. 2015 from intersection with PA Route 419 & continuing into Kleinfeltersville; C) State Rd. 2023 from intersection of PA Route 419 & S. Sheridan Rd. to the end of State Rd. 632 S. Mountain Rd.; D) T610 (Richland Rd.); E) T362 (Stricklerstown Rd.; F) All snow emergency routes. 
Snow Emergency Routes – Main St., Sheridan Rd., Memorial Blvd., Parish Ave., and all streets in Newburg Village are posted as snow emergency routes.  Please try to remove vehicles as soon as possible when a snow emergency is declared. It is very important to have vehicles removed from Snow Emergency routes so that the state and township road crews may do their jobs more quickly and efficiently. Vehicles not removed may be subject to a fine, and may be towed at your expense.  TV stations Fox 43, WGAL 8, CBS 21, and ABC 27 are notified when a snow emergency is declared and should be monitored during any winter storm.
Sidewalks – a pathway of not less than 30″ must be cleared within 24 hours after the end of a winter storm.  If you or one of your neighbors leave the township for the winter or are physically unable to clear your sidewalks please make arrangements to have them cleared for you by someone reliable.
Fire hydrants may not be covered with snow or ice, nor may any snow or ice removed from sidewalks or driveways be placed on the street or roadway.  This action could result in fines.
Please also remember, snow plow drivers do not intentionally push snow into your driveways after you've cleared it, but the snow will obviously go back into any available openings in the path of the plow.  It is the driver's responsibility to ensure the roadways are as safe as possible.
We thank you for your continued patience and cooperation during the upcoming winter season!
https://millcreektownship.info/wp-content/uploads/2022/10/Snow-Ice-Removal-Ord.-Feb.-8-1995.pdf
https://millcreektownship.info/wp-content/uploads/2014/02/Ordinance-041217-Amending-Section-5-of-Snow-Ice-Clearing-Ord.pdf